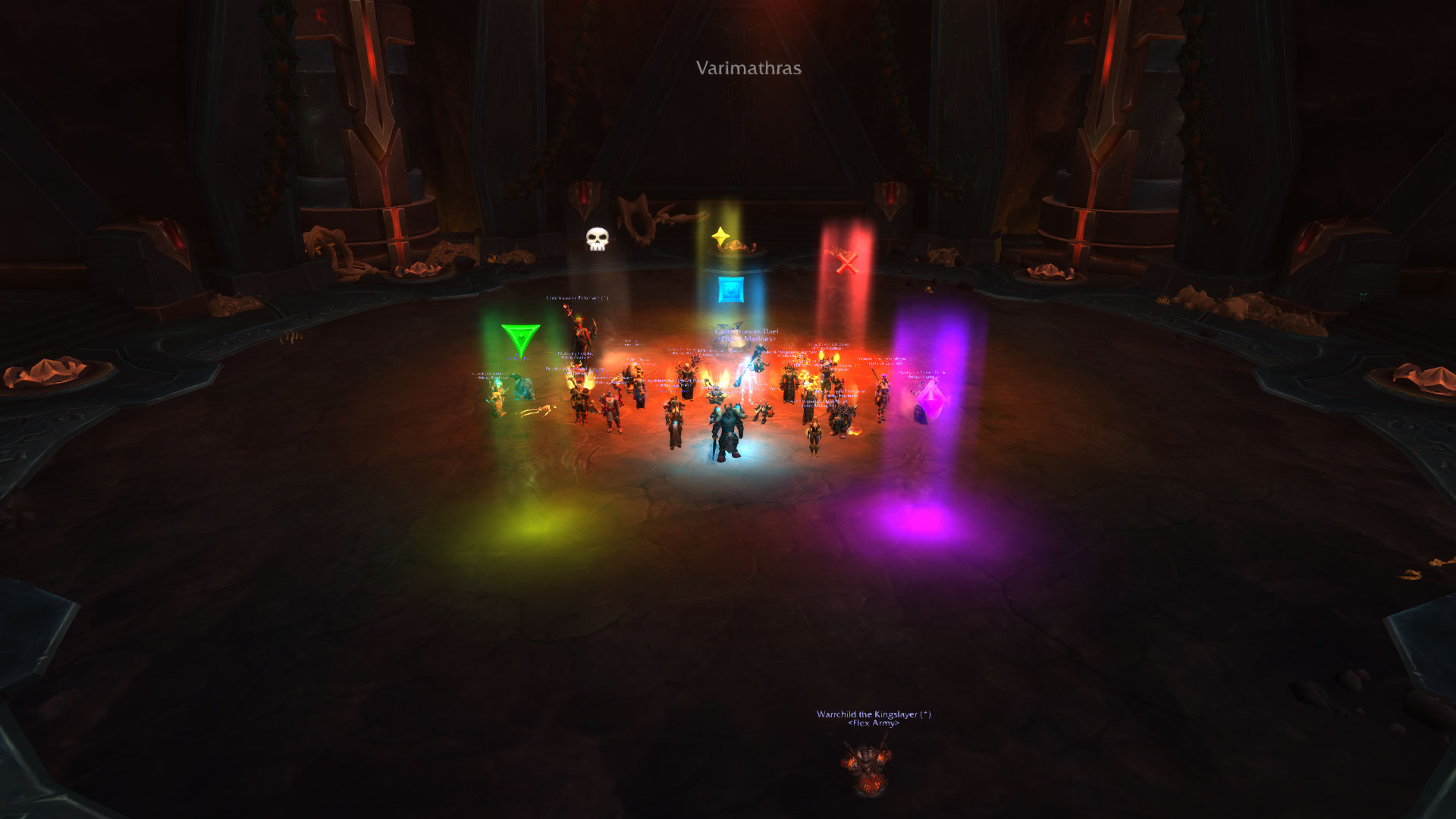 Another kill for Friday Marines, this time an old foe is vanquished, shame really, quite liked the guy.

Welcome Visitor and Greetings from Friday Marines! :)
Current LEGION Team Roster: 23
(update 15-01-2018 by Anka)
(7) Protector
(2) Hunter: Pickles (aka Aarsch), Harveey
(-) Warrior: -
(3) Shaman: Exosphere, Sharkwave, Turbotumor, Rubyshield
(1) Monk: Tiael
(8) Vanquisher
(3) Mage: Mickella, Sozin, Shandril
(1) DK: Erro, Libitina
(1) Rogue: Lager
(2) Druid: Leviathaz, Danceim
(9) Conqueror
(4) Paladin: Ciktor, Novak, Prach, Killalot
(2) Priest: Sunel, Premyslav
(-) Warlock:
(3) DH: Anka, Herendoson, Dusparity
(24) Team Per-Armour-type:
(6) Plate: 0 Warrior + 2 DK + 4 Palas
(7) Mail: 4 Shamans + 2 Hunters
(7) Leather: 1 Monk + 1 Rogues + 3 DHs + 2 Druid
(5) Cloth: 3 Mages + 2 Priests + 0 Warlocks
(16) DPS split per type:
(9) Melee: 0 Warrior + 1 DK + 1 Rogue + 3 Palas + 3 DHs + 1 Shaman
(7) Ranged: 2 Hunters + 1 Shaman + 3 Mages + 1 Priest + 0 Warlock + 0 Druid
(6) Healers:
1 Priest + 1 Pala +2 Druids + 2 Shaman + 0 Monk
(2) Tanks:
1 Monk + 1 DK


ABOUT FRIDAY MARINES
Who are the Friday Marines? Firstly, we are an Alliance progression raiding guild. In previous expansions we were a cross-guild group made up from the various guilds in Doomhammer (EU-WoW) and since the merger also Turalyon (EU-WoW). This was common especially in role playing realms, where people had tight-knit communities that roleplay, whilst also wanting to join in with raiding content. However, due to Master Loot changes in raid encounters, we expect new players to join the Friday Marines guild unless you have a valid reason not to. The majority of our raiders are now there.
In MoP the team used to be 10-man, now it is fully 20-man for Mythic raiding. Applications from x-realm require server transfere.
Secondly it is a Team that raids 2 days per week, Fridays and Saturdays, 20:00-24:00. Therefore it is aimed at people, who can not commit to 3-5 days per week raiding, but it is also a place for great players to join on their alts who seek even more raiding - assuming they can still commit attendance and meet requirements listed below.
Thirdly, raid time of the team is limited, yet the target still is to see some or all of the Mythic content, therefore there are some strong requirements for the members, like ability to play the game at relatively high standards, and also very importantly to be fully prepared for the raids with knowledge of the fight and strategies at least for your own class/role. For this reason this team is aimed at very good players, often ex-End-Game-Heavy-Raiders, who just can't raid as much as they used to some time in the past.
The team Friday Marines started raiding on 2nd November 2012. Raids are going on on a weekly basis since than. The aim for Legion is to have ideally 25 but not more than 28 members with high attendance (80% is a sharp requirement for new members). Basically, joining the team means a personal commitent to be there for all raids. The occasional RL-situation that prevents you from joining is of course OK and normal. For this team the basic rule is that RL >> game, yet still the commitment to be there on every Fridays and Saturday is expected.

RECRUITMENT FOR 20-MAN MYTHIC RAIDING in LEGION EXPANSION: OPEN
* We are still open to selected classes and roles to improve the team for 20-man raiding in Legion; take a look at our forum right hand side panel for priority classes/roles we are looking for. DON'T hesitate to apply if you are not listed as priority class, as info might be actually outdated, and we always open for a really experienced players. Just poke either Shandril-doomhammer (Shandril#2428, Recruitment Officer) or Oldmanflaps-doomhammer (James#2895, Guild Master).
Our Team is ALWAYS open for great players who used to be in top guilds before and part of push-progress hard core raiding (regardless of the above top priority needs), if you one of such people, NEVER hesitate to /poke us in-game or here on the forum for a discussion, in fact the team was created with exactly such people in mind, and there is quite a few alike in the team today. :)

TEAM RULES, SIGNUP PROCESS
Friday Marines use an EPGP loot system. Attendance is tracked and visible on the webpage, and rotations are noted on www for priority transparency, so that those rotated on one week usually don't get rotated for the next couple of weeks. We use our own Friday Marines Discord server for raiding voice chat. This forum serves as a place to chat about our raiding, and stores all attendance, loot-distribution and EPGP-standings. Events are set in in-game callendar, and a response "Accepted" is required to receive invitation at 19:50 when invitations starts.
Joining this team means you commit to be there every Friday and Saturday. If you can't make the raid, you need to respond "Declined" via in-game callendar or mention it on the forums, ideally on Wednesday or Thursday latest, so that a replacement is organised if needed.
For in-game cross-guild communication team members use dedicated channel /join FridayMarines. For visitors inquiries just /w Shandril-doomhammer (Shandril#2428) or Oldmanflaps-doomhammer (James#2895).

REQUIREMENTS / EXPECTATIONS FOR ALL RAIDING MEMBERS AND TRIAL RULES
1. Attend all raids on weekly basis, unless some rl unexpected pops up - if you have a permanent conflict with one of the raiding days, better not join the team, as we do expect participation and dedication to the Team; respond to in-game callendar to confirm your attendance. Avoid "Tentative" as it does not tell much. In terms of specific attendance requirement it is 80%, so allows for 3 missed raidsd per 2 months.

2. Prioritise Mythic+ dungeons and making sure you have enough gold for best enchants/gems/consumables in any other time on WoW.

3. It is expected that every raider has the best enchants, gems and consumables. This is enforced if standards are dropping. When you apply, fine details ragarding different items are specified in the forums and its expected you're fully prepared for your first raid and every raid with us.

4. We require all memebrs to max main specc weapon AP as soon as possible. Minimum required at the time of this post is 50, with strong commitment to max within minimum 2 weeks. As of mid-March it will be required to have max weapon for joining.
We try hard to keep our raids nice and calm. Occasionally, on some progression fights, we may fail to maintain this, but that's rare. We all make the effort to keep the atmosphere in raids relaxing rather than stressfull, while still reasonably pushing for progress. - Contribute to this approach! :)
In terms of trial rules, it is pritty simple: what matter for the decission is (1) attendance - if you can't make most or all raids it makes really no sense to join the team, as the trial will be failed for sure; (2) game play skills - which means ability to execute tactics precisely and consistently plus knowledge of the class demonstrated by good dps or hps output for damage dealers or healers (it is required for new team members to be able to reach 50% gear bracket Ranking at Warcraft Logs for most of the fights, and we admire those able to go 80% and above); (3) personality fit for the team - we are a bunch of old timers, mature people, with families and jobs, we treat WoW as great way to relax after a hard week at work or uni, so we tolerate no shouting, fingerpointing, or drama - if you kind of emo person, easy to upset or annoy by whatever reasons, you will not fit well, and best is to stay away, however, if you warm and kind in your heart, tolerant for unintended mistakes sometimes, you certainly will find Friday Marines a nice group to raid with.

Apply if you think this is for you and we will see you in raids! :)